Roughly one in six people move each year in the United States. Moving into a new home can be an exciting time, but it's fraught with a long list of things that still need to be done. Cleaning the house before you start unpacking your boxes is one of the very first things that most people will want to accomplish. This can be a rather involved task because you need to clean the entire house from top to bottom. Of course, it's much easier to make sure that you do that before all of your things are unpacked.
If you aren't sure where you should start with your house cleaning, here are a few suggestions you might want to keep in mind.
Bathroom
Start with the room that you might need to use immediately. The bathroom can be a germy and bacteria-filled place if it hasn't been properly cleaned in a while. Most people hesitate to start with the bathroom, but it's best just to get it over with. Put on a pair of rubber gloves and start with the shower or tub. Let everything soak with a heavy-duty cleaner while you get to work on the toilet and sink. Be sure to scrub the floors and the walls of the shower to get everything totally clean.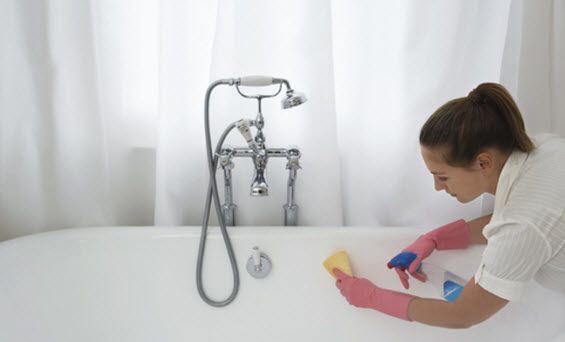 Kitchen
The kitchen is the next most time-consuming area to clean. This is the best time to wipe down the inside of the refrigerator and the inside of the oven. Clean behind the appliances and be sure to vacuum off their coils and scrub the walls behind them. Wipe down all of the walls if they seem suspect or have leftover residue on them. Clean the fronts of the cabinets, sanitize the hardware, and install new shelf liners in the cabinets. Don't forget to wipe down the counters and scrub the sink while you're at it!
Living Areas
All of the other living areas pose less of a threat to your health. Most of these rooms need a thorough dusting. Clean any blinds in the rooms and wipe down the windowsills. You might need to clean the walls if there are lots of fingerprints or smudges on the drywall. A magic cleaning sponge can help to get rid of any stains that regular warm water doesn't take care of for you. Sanitize the doorknobs and light switches while you're cleaning in these areas.  This is also an ideal time to clean the inside of your windows without climbing over furniture and removing curtains.
Do all of this before you vacuum the carpets. If the carpet is not new, be sure to hire a professional carpet cleaning company to take care of this for you. Sweep and mop any other type of flooring such as hardwood, laminate, or tile.
Are you moving in a hurry and don't have time to clean the house? Don't sacrifice moving into a clean house just because you don't have enough time. Hire Maid Complete and take advantage of our qualified house cleaning services. Book online or give us a call today to set up your move-in or move-out cleaning!