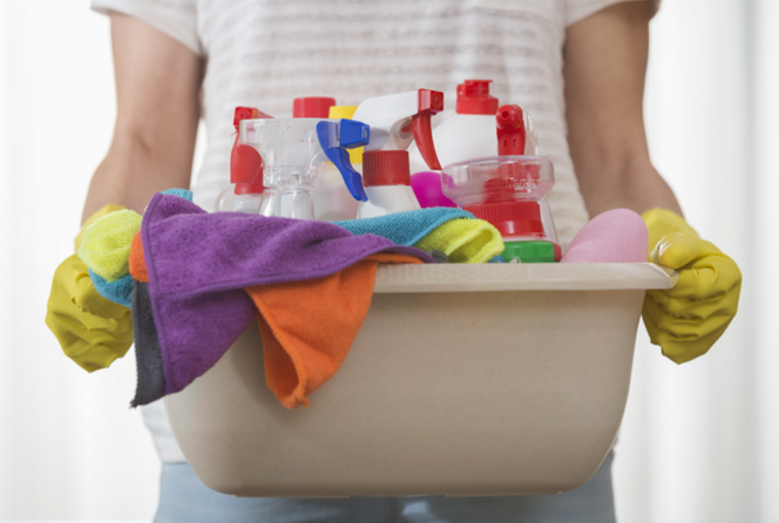 Children have a way of finding their sticky hands in every bottle of cleaner and box of crackers you buy. Particularly when they are too little to really understand why mixing these items could be bad, it's important to avoid having certain cleaning products in the house at all. They can pose a major risk for families who have small children. They could accidentally get their hands into them or ingest them with potentially fatal consequences.
In 2000, exposure to household cleaners represented 10 percent of all exposures reported to the United States Poison Control Center. More than half involved children under the age of six.
It would be nearly impossible to clear out your cleaning supplies while you still have children in the house. However, you can attempt to make their experiences much safer by getting rid of some of these hazardous chemicals. Following these simple suggestions could help you to create a much safer environment for your kids.
Avoid products with a warning label
Does your favorite kitchen cleaner say that there could be a danger or it warrants a warning sticker? If any of your bottles have these common notations, you might want to consider switching to something more family-friendly. You will likely find these warnings on all of your favorite store-bought products, with the exception of new and greener alternatives. Consider replacing all of your old favorites with these safer alternatives.
Get rid of bleach and ammonia
You can make your own cleaners at home without the extremely toxic quantities of bleach and ammonia. These ingredients are extremely bad for your own health while scrubbing the shower or the kitchen floor. However, they can have deadly consequences for a child who sticks their hands in a bucket of bleach or decides to try a few sips. It is much safer to make your own cleaners using common household ingredients like vinegar and lemon juice.
Find a new place to store homemade cleaners
Even the green cleaners you make can be dangerous for children. While swallowing them will prompt little more than a scolding, spraying themselves in the eyes could have a different ending. It's important to simply ensure that your children do not have access to your spray cleaners when you aren't around. This means moving them from beneath the kitchen sink to somewhere safer like the top shelf of the laundry room.
You might also need to be more cautious to ensure that you don't allow these cleaners to sit out while you work around the house. An ounce of prevention is worth a pound of cure when it comes to your kids' safety.
At Maid Complete, we can help to thoroughly clean your house to your satisfaction using kid-friendly cleaners each and every time. We offer you a money back guarantee when using our cleaning services so you can try out these greener products for yourself. Give us a call today to see how we can help to clean your home more thoroughly!