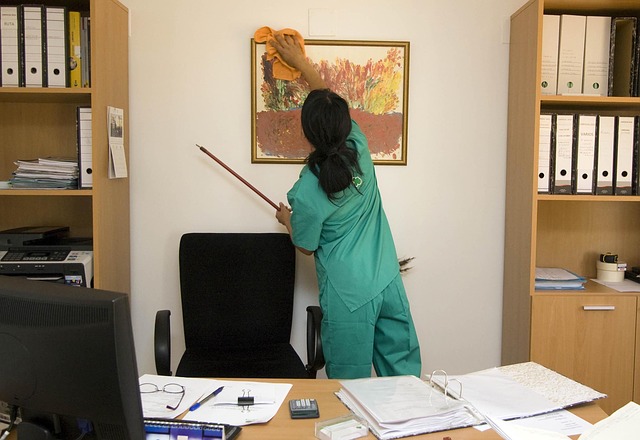 Almost half of all people spend some part of their work week in a home office. That means that more people are accumulating dust and clutter in their home offices than ever before. While this does have great meaning for family time and flexible work schedules, few people really know how to clean and care for their home office. The papers can really pile up, germs run rampant, and you feel more anxious in this crowded space than ever before. It's time to take charge of the situation.
What can you do to clean your home office? Here is a handy checklist of ways you can get started with your cleaning.
Dust everything
Dust is one of the biggest eyesores in a home office because of all the electronics. This is the fastest item you can fix. All you need to do is take a clean microfiber cloth and lightly run it over every surface that is accumulating dust. If all you want to do is a quick surface clean, you can opt to dust only the items that are showing thick layers of the grey dust. However, you should really consider doing a more thorough clean by picking up accessories, removing books from the bookshelf, and dusting all the picture frames.
Clean up flat surfaces and get rid of stains
Did you spill a few drops of soda on your coffee table the other day? Maybe you got an important call from a client and forgot to return to clean it up. Every home office accumulates an assortment of stains and spills on the flat surfaces. That's why it is so imperative to start cleaning them early in your process. Spritz a mild all-purpose cleaner on a clean rag before rubbing it on the surface of your desk, coffee table, and other items.
Sanitize your keyboard and phone
Take this opportunity to clean up two oft-forgotten items in your home office. The keyboard requires a little more work to clean, so this is a great place to start. Unplug it and hold it upside down over the trash can to catch any small crumbs or debris that may fall out. Use compressed air or a paintbrush to get in between the keys and loosen up any remaining dirt. You can use an alcohol swab to wipe the surface of the keys. Allow it to dry before you plug the keyboard back in.
The phone is equally dirty because you leave it against your face, hold it with your hands, and even breathe into it. Using another alcohol wipe or another type of disinfectant, you can wipe down all parts of the phone. This includes any headsets you might use and the phone's cord.
Cleaning your home office can be a time-consuming chore if you are taking the time to do it properly. Why not consider investing in professional house cleaning with Maid Complete? We can give you convenient services that leave your home office sparkling. Be sure to call us or book your cleaning online today!